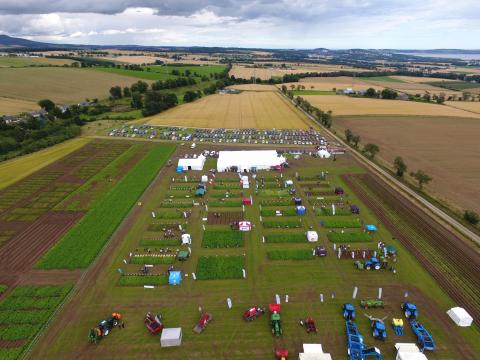 May 05, 2021
With the continued easing of COVID restrictions, Potatoes in Practice is set to take place physically as a field event on 12 August at Balruddery Farm, Invergowrie, Dundee DD2 5LL. Field plots have been planted and now event partners have opened the event to other exhibitor bookings.
Exhibitor bookings will be for outdoor spaces only as there will be no large marquee for indoor exhibits this year to mitigate COVID risk and allow higher numbers on-site in the event that there are restrictions on gatherings and events in August. The exhibitors' marquee will be replaced by individual exhibitor gazebos. Exhibitors are invited to bring their own gazebos and showcase their offerings in 3m by 3m outdoor spaces,costing £325 + VAT.
As there will be no indoor space, we will all have to be prepared for the possibility of being outdoors in wet weather. There will still be catering on site, but it too will be for consumption outside and most likely 'on the hoof'. All of these adaptations are being made to give the best chance of running the event with the most important components present: the plots, machinery and the audience.
In order to secure your place at this event please complete our booking form by 28 May 2021. An exhibitors' pack and a risk assessment document are available on request by emailing events@hutton.ac.uk. Both documents contain all the information needed to make an exhibitor booking; the risk assessment form must also be submitted by 28 May 2021.
Due to the continually changing COVID situation, further guidance for this event will be issued nearer the time of the event. Please contact the James Hutton Institute's Events Manager, Lucy Mitchell, with any questions.