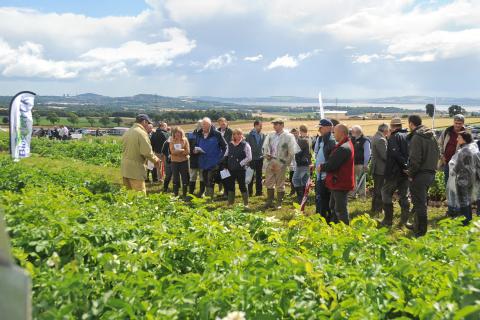 January 25, 2021
Despite the current disruptions and uncertainty, the organisers of Potatoes in Practice 2021 have agreed to proceed with preparations as normal to keep all options open for a possible field event on Thursday 12 August 2021.
Potatoes in Practice (PIP) is the UK's largest field potato event and was cancelled last year due to COVID restrictions. Still, organisers hope that the event can make a comeback in 2021 if regulations allow for it.
Lucy Mitchell, events co-ordinator at the James Hutton Institute and part of the PIP Organising Committee, said: "The cancellation of Potatoes in Practice 2020 was a considerable loss to the sector in terms of seeing what's new, networking with colleagues and contacts and catching up with friends in the trade, but it means that there will be even more to see, catch up on and talk about at Potatoes in Practice 2021.
"The plots need to be planted to give us the option of hosting a physical or slightly adapted physical event this year. The PIP partners will be preparing digital content as well either to complement the physical field event or to be used if restrictions require us to hold a purely virtual PIP." 
PIP will take place on Thursday 12 August 2021 be that in the purely physical, physical with digital elements or purely digital format, subject to COVID regulations at the time. The organising committee expects to be able to make the decision in May as to the final format, based on how pandemic restrictions have been evolving and any known or anticipated changes in these.
Completed plot booking forms (booking form and field treatment form) must be sent by 1 March 2021 and seed and any other materials must be delivered by 15th March 2021. Our Exhibitor booking form is now open; please note that if a physical event is not possible, all plot exhibitors will receive a full refund.
More information about the practical details around the event, other types of exhibitors and how PIP will be run will be provided to all interested parties when the prevailing Covid regulations are known, much nearer the time. The organisers will also of course be taking regular soundings about these and any impacts on our plans and will share them with everyone who is interested in PIP.
From its humble origins in the late 1980s, Potatoes in Practice has grown to become the UK's largest field event for potatoes and a highlight of the sector's season. The event brings together variety demonstrations, research and trade exhibits in one place, making it an unmissable date in the potato industry calendar.