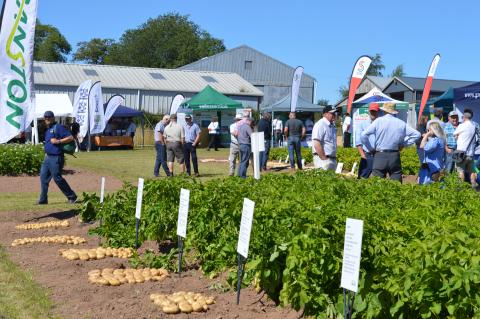 June 12, 2023
The future of potato crop production will be showcased at Potatoes in Practice, the UK's largest field-based potato event on 10 August in Dundee, hosted by the James Hutton Institute, the SRUC (Scotland's Rural College) and Agrii.
The eagerly anticipated event brings together a variety of demonstrations, cutting-edge research, trade exhibits, and a wealth of knowledge from experts in the field.
With the focus of this year's event being  'Using Evidence to Build Resilience for Potato Crop Production',  the event will highlight the importance of evidence-based practices in overcoming challenges faced by potato farmers.
Prominent speakers from the across the sector will share their expertise including Steven Thompson from SRUC, Patrick Hughes from SAOS, Nick Windmill and Graham Tomlin from Agrii all attending alongside the newly appointed director of the National Potato Innovation Centre, Ian Toth.
The annual event offers a comprehensive showcase of the latest developments in the potato industry, with attendees having the opportunity to witness first-hand the latest innovations and emerging trends. From commercial breeders introducing new varieties, to agronomists demonstrating advancements in crop protection and researchers on hand to discuss their most recent findings, visitors will have access to a wealth of scientific knowledge and expertise.
Potatoes are the world's third most important food crop and hold a significant place in the agricultural landscape of the United Kingdom. Their cultivation plays a vital role in the country's economy and potatoes are one of the most nutritional crops as well as providing more food per unit of water than any other crop.
The James Hutton Institute (JHI), the leading potato research centre in the UK, is creating the National Potato Innovation Centre (NPIC) in the heart of Scotland's prime potato country, in Invergowrie, just west of Dundee. The aim of the NPIC is to take advantage of JHI's 100+ scientists working on potato as well as working with stakeholders to collaboratively develop solutions and make potato a sustainable and profitable crop, providing nutritious food for all, as well as benefitting the British economy.
Ian Toth said "Now has never been a better time for industry and science to work together to improve potato production and ensure a long-term sustainable and resilient future industry.  With the new potato bodies GB Potatoes and the Seed Potato Organisation (SPO) now set up and underway, and the industry's future strategies being developed, now is the time to come together and make these visions a reality, and I believe that NPIC will play a major part in making this happen."     
The Potatoes in Practice event will take place from 09.00 to 15.30 on 10 August at the James Hutton Institute's Balruddery Farm, Dundee.